MRS. ARZUDA KARIM, DIRECTOR, ORION GROUP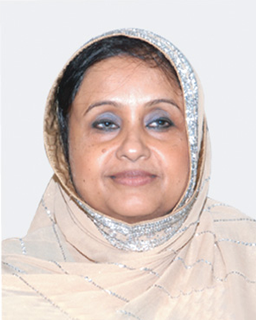 Mrs. Arzuda Karim is one of the most successful women entrepreneurs in Bangladesh. She is one of the Founder Directors of ORION GROUP, one of the largest conglomerates in Bangladesh.
A post graduate in Social Science from the University of Dhaka, Mrs. Karim supervises Production, Marketing and Commercial Divisions of the Pharmaceutical sector of Orion Group. Her business skills, intellectual knowledge and adaptability in the Pharmaceutical Production, Marketing and Commercial areas are some of the major reasons of success in the Group.
A distinguished and self-committed businesswoman, Mrs. Karim has been involved with the Group since its inception. Her hidden entrepreneurial potentials have gradually changed herself with the growing sensitivity to the role and economic status in the Business Society. While being a high achiever herself, Mrs. Karim is one of those rare people who combine exceptional professionalism with warmth and humility.
Mrs. Karim is the Director of all the concerns of Orion Group amongst which includes Orion Pharma Limited, Orion Infusion Limited, Kohinoor Chemical Co.(BD) Limited, Orion Infrastructure Limited, Orion Hospitals Limited, Orion Power Meghnaghat Limited, Dutch Bangla Power & Associates Limited, Digital Power & Associates Limited, Orion Power Dhaka Limited, Orion Power Khulna Limited, Orion Power Unit-2 Dhaka Limited, Orion Gas Limited, Orion Agro Products Limited, Orion Footwear Limited, Noakhali Gold Foods Limited, Jaflong Tea Company Limited, Orion Oil & Shipping Limited, Orion Holdings Limited and Rock Asset Management Limited.
Besides being the Director of Orion Group, Mrs. Karim is actively involved in various religious and philanthropic activities in the fields of education, human resources and disaster relief. She is the Founder of Arzu Foundation, a nonprofit organization dedicated to provide assistance to the needy of the Society. Mrs. Karim is also involved with the Orion Renal and General Hospital, which provides partly free medication to the underprivileged of the country.